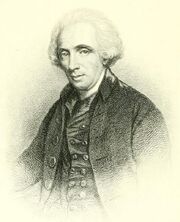 William Smith (1728 - 1793) was a New York Loyalist writer and jurist and one of the architects of the Britannic Design.
Smith was born in New York City, the son of William Smith the elder and Mary Hett Smith. In 1753 he was the co-founder, with William Livingston, of New York Province's first magazine, the Independent Reflector. His History of the Province of New-York was published in London in 1757. In 1767 he succeeded his father as a member of the province's Council.
Throughout the American Crisis, Smith was a strong advocate of a union of the American colonies. However, when the North American Rebellion broke out in 1775, he found that he could not support American independence, and he refused to pledge allegiance to the revolutionary government of New York. Following the British victory at the Battle of Saratoga in October 1777, he declared his allegiance to the British Crown and left New York for Quebec.
Smith's record of advocacy for a union of the American colonies led to his being invited to London in 1780 to advise Parliament during the drafting of the Britannic Design. Smith joined Sir Guy Carleton and Francis Legge in calling for Quebec to become part of the Confederation of North America. As a result, Quebec was divided into three confederations, all of which joined the Northern and Southern Confederations to make up the C.N.A.
Sobel makes no mention of Smith after his role in the drafting of the Britannic Design, but it is likely that he accompanied Carleton to Quebec in 1782 and played a significant role in the confederation's government.
---
IOW, Smith joined the British in New York City in 1778, and eventually was named Chief Justice of Quebec by Sir Guy Carleton in 1786.