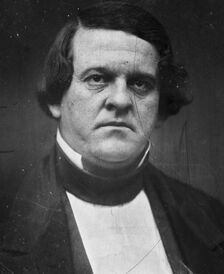 Whitney Hawkins was the fourth Governor-General of the Confederation of North America, serving from August 1856 to February 1858.
A financier from the Confederation of Indiana, he served as Minister of the Exchequer in the Cabinet of Governor-General William Johnson. When Johnson chose to retire in August 1856, he recommended that the Conservative caucus in the Grand Council choose Hawkins as his successor, and the caucus did so. Although an able Cabinet minister, Hawkins had little experience with day-to-day politics. He made a number of poor choices for his own Cabinet, particularly Bruce King, his Minister of Resources. While serving in the Cabinet, King stole more than N.A. £500,000 and accepted bribes for N.A. £1,000,000 more.
The Conservatives nominated Hawkins for another term as Governor-General for the 1858 Grand Council elections, but Hawkins proved to be a poor campaigner, and the Liberal Party under Northern Confederation Councilman Kenneth Parkes was able to buy several Grand Council seats, giving them a six-seat majority.
---
Sobel's source for the political career of Whitney Hawkins is Milton O'Casey's The Hawkins Administration (New York, 1953).