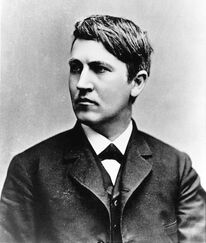 Thomas Alva Edison
(1847 - 1903) was the most prolific inventor in the history of the
Confederation of North America
. Born in the Confederation of
Indiana
on February 11, 1847, at the age of twenty Edison perfected
Aaron Garfield
's
telegraph
. Forming his own company,
National Union
, Edison won the contract to build the first telegraph line between
Burgoyne
and
Mexico City
, completing it in 1876.
By the time of his death in 1903, Edison invented a working light bulb and founded National Electric, which electrified Burgoyne in 1880; invented the telephone and founded North American Communications in 1890; invented the radio in 1896; the phonograph; the motion picture; the locomobile; the vitavision in 1900; and, shortly before his death, the airmobile.
Thomas Edison does not have an entry in Sobel's index.
---
Sobel's sources for the life of Thomas Edison are Philip Davis' Second But To God: The Works of Thomas Edison of Indiana (New York, 1911); Horace Medill's The American Da Vinci: Edison and His Works (New York, 1954); and George Ryder's And There Was Light! (New York, 1962).
Community content is available under
CC-BY-SA
unless otherwise noted.