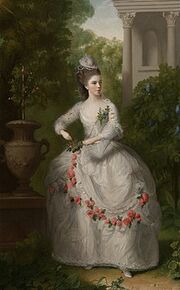 The Maid of the Oaks is a comic play written in 1774 by General John Burgoyne, the future victor of the Battle of Saratoga, Duke of Albany, and first Viceroy of the Confederation of North America. Burgoyne orginally wrote the play as part of the festivities surrounding the marriage of his nephew Lord Stanley, heir to the Earl of Derby, on 9 June 1774 at the family's country estate, The Oaks. Press accounts of the lavish wedding sparked general interest in the play, and the London producer David Garrick arranged with Burgoyne to produce an expanded version which premiered at Drury Lane Theatre on 5 November 1774.
In keeping with the setting where it was first performed, Burgoyne's play involves a fictional wedding at a fictional country estate called The Oaks. The play's title character is Maria, the orphaned ward of Mr. Oldworth, a wealthy country gentleman. Maria has won the heart of Sir Harry Grovebey, nephew and heir of another wealthy country gentleman, and the two are due to be married. However, Sir Harry fears, with good reason, that his uncle will object to his marriage to a penniless orphan, and he has kept the wedding secret.
Sir Harry meets an old friend, Charles Dupeley, but is dismayed to find him dismissive of Maria, and of women in general -- Dupeley's travels outside Great Britain have left him cynical. Sir Harry persuades a fashionable young woman named Lady Bab Lardoon to teach Dupeley a lesson, and she fools him into thinking she is an innocent shepherd girl from The Oaks before turning the tables on him.
Sir Harry's uncle hears about the wedding, and turns up at The Oaks determined to put a stop to it by threatening to disinherit Sir Harry. Old Grovebey meets Maria, and not realizing she is his nephew's fiancee, falls in love with her himself. When Old Grovebey learns the truth, he carries out his threat to disinherit Sir Harry. It is only when Oldworth reveals that Maria is actually his daughter that Old Grovebey relents.
Sources
[
]
Sobel's source for The Maid of the Oaks is Hartley Fowler's Burgoyne as a Playwright: The Last of the Restoration Writers (Philadelphia, 1954).
External Links
[
]
The Maid of the Oaks at Eighteenth Century Collections Online.