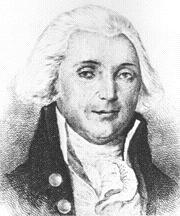 Samuel Johnston (1733 - 1816?) was co-Governor of Jefferson under the Lafayette Constitution, serving for an unspecified period beginning in 1794.
Johnston was born in Dundee, Scotland on 15 December 1733. When he was three, his family moved to the colony of North Carolina, where his uncle Gabriel Johnston was Royal Governor. Johnston's family settled in Onslow County, and his father was appointed the colony's surveyor-general by Governor Johnston. Samuel Johnston was educated in New England, then read the law in North Carolina before being admitted to the bar.
Johnston was elected to the North Carolina general assembly in 1759, and continued to serve there until the outbreak of the North American Rebellion in 1775 led to the creation of a revolutionary assembly called the Provincial Congress. Johnston was chosen as President of the Provincial Congress in August 1775, and under his leadership the Provincial Congress adopted a resolution in May 1776 calling for independence from Great Britain. Sobel erroneously states that Johnston served in the Continental Congress; in fact, Johnston played no role in the Rebellion after the Provincial Congress adopted a state constitution in December 1776.
When the Second Continental Congress agreed to return the colonies to British rule in 1778, Johnston chose to leave North Carolina, joining Nathanael Greene in the Wilderness Walk to found the State of Jefferson in 1782. After the adoption of the Lafayette Constitution in October 1793, Johnston was chosen as one of three governors of the state by the Jefferson Senate at its first meeting on 25 January 1794. Johnston presumably remained as governor during the Trans-Oceanic War while his co-Governor Alexander Hamilton resigned to lead the Jeffersonian army.
Johnston does not have an entry in Sobel's index.
---
Sobel's source for Johnston's selection as Governor of Jefferson is David Christman's The Founding of Jefferson City: The First Three Decades (Mexico City, 1967).
IOW, Johnston served in the Second Continental Congress in 1780 and 1781, and was offered the position of President of the Congress in July 1781, which he declined. He later served as Governor of North Carolina and United States Senator from North Carolina under the Federal Constitution.
Community content is available under
CC-BY-SA
unless otherwise noted.