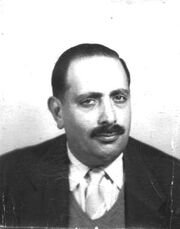 Raphael Dominguez is the thirteenth President of the United States of Mexico, serving since November 1965.
Dominguez was an attorney in Mexico City and a member of the faculty of the University of Mexico City when he was chosen by President Vincent Mercator to be the Progressive Party (and sole) candidate for President in the 1965 Mexican elections. Of the 31 million votes cast for President, Dominguez' name was crossed out on 16.3 million of the ballots, which were either left blank or had another name written in. The most popular write-in candidate was the late Admiral Paul Suarez, winner of the Presidential race in the 1950 Mexican elections. Despite this, Dominguez was sworn in as President by Mercator on November 22, 1965.
Mercator became Secretary of War in Dominguez' Cabinet, and continued to exercise power, with Dominguez acting as figurehead. The major problem facing Dominguez and Mercator was the failure of the U.S.M. to build an atomic bomb. During Dominguez' term in office there have been several unsuccessful atomic bomb tests at Point Harrington, Alaska. Although Dominguez has blamed these failures on sabotage, it is more likely that the failure is due to the physicists produced by Dr. William Chron's education system. Chron was replaced as Secretary of Education in 1966 by Professor Albert Peck, who created a series of advanced university centers in the various Mexican states. However, it is expected that it will take several years for Peck's university centers to produce scientists who are capable of creating atomic weapons.
Mercator and Dominguez have also attempted to bribe foreign scientists and technicians into defecting to the U.S.M., and in January 1969 a Mexican spy ring was uncovered in Michigan City, leading the Confederation of North America to break diplomatic relations with the U.S.M. and close its borders. Since then, there has been guerilla activity along the border between Jefferson and Southern Vandalia.
Following the exposure of the Michigan City Spy Ring, Dominguez has stated that "We are surrounded by enemies, and a cornered nation, like a cornered man, must often strike out in self-defense. This is not a threat, merely an observation. I hope our enemies understand the meaning of my words and will act accordingly."
Although Dominguez' term expires in 1971, Sobel does not indicate whether he is running for re-election.
---
Sobel's source for the administration of Raphael Dominguez is Kenneth Zarb's Inside the U.S.M.: Mercator's Folly (New York, 1971).
Community content is available under
CC-BY-SA
unless otherwise noted.