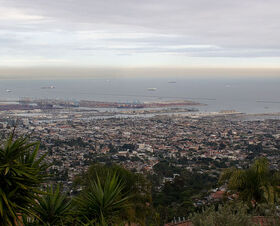 Puerto Hancock, California, is one of the major cities of the United States of Mexico. Named after executed North American Rebellion leader John Hancock of Massachusetts, Puerto Hancock became an important port at the time of the California Gold Rush, beginning in 1838. Along with San Francisco, it served the increasing economic activity of the state. According to Sobel, the city "stagnated" after the end of the gold rush ten years later.
The first transcontinental railroad, the Jefferson & California Railroad, had its western terminus at San Francisco and did not serve Puerto Hancock. However, the port was still important for steamship service along the entire Pacific coast of Mexico.
In For All Nails, PH has its center on the site of IOW Long Beach, with a large metropolitan area largely coinciding with that of IOW Los Angeles. It seems likely that Sobel intended for the other major city in California to be on the site of Los Angeles, but the geographical reasons for this are not as clear as those for Chicago/Michigan City, and a port in Los Angeles would not be relevant to the gold fields near IOW Sacramento. There is no other obvious location than San Francisco for a seaport to serve that area, however.
Community content is available under
CC-BY-SA
unless otherwise noted.