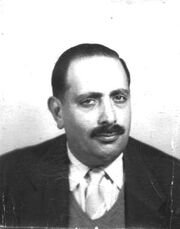 The
President of the United States of Mexico
is the chief executive of the government of the U.S.M. Under the
Mexico City Constitution
, the President was originally chosen by the
Senate
for a six-year term. However, following the ratification of President
Arthur Conroy
's
Presidential Election Amendment
in 1864, the President was elected by popular vote, with the Senate selecting the President only if no candidate won a majority. The President appoints a
Cabinet
to advise him and oversee various departments of the government.
The President has the power to veto legislation by the Mexican Congress, which can override his veto by a two-thirds vote. The President may call new Congressional elections at his own discretion, although none has ever done so. The President nominates judges to serve on the Mexico Tribunal, subject to ratification by the Senate. The President is commander-in-chief of the U.S.M.'s military forces.
The Mexican government has experienced two periods of autocratic rule. In the first, Constabulary Commandant Benito Hermión was named Chief of State by the Cabinet following the death of President George Vining in September 1881. Democratic rule was not restored until the 1902 Mexican elections in June 1902. In the second, Colonel Vincent Mercator led a military coup in January 1950. Despite a sham election in November 1965, democratic rule has not been restored in the U.S.M. as of 1971.
Community content is available under
CC-BY-SA
unless otherwise noted.