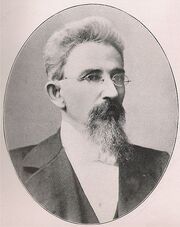 Pedro Sanchez was a Mexican newspaper editor and presidential candidate.
Sanchez was the editor of the Mexico City Times at the time of Benito Hermión's seizure of power in Mexico City on 17 September 1881. Sanchez opposed Hermión, and as a result was either exiled or forced to flee the United States of Mexico.
On 1 October 1901, Sanchez was secretly returned to Mexico by Diego Cortez y Catalán, the President of Kramer Associates. Cortez had decided to organize Hermión's overthrow, and he brought Sanchez to a meeting at his hacienda outside Sacramento, along with thirteen other opponents of the Hermión regime. At the meeting, Sanchez suggested a surprise coup, followed by a public trial of Hermión and his closest associates. Cortez spoke out against a trial, predicting that "while it would be taking place, pro-Hermión forces might stage a revolution of their own." Cortez then proposed his own plan to seize the Imperial Palace and maneuver Hermión into fleeing Mexico.
Cortez' plan succeeded, and Hermión did indeed flee Mexico City on the morning of 16 October, while Martin Cole, the commandant of the Kramer Guard, proclaimed a provisional government that would rule until elections were held. The elections took place on 14 June 1902, with Sanchez one of fourteen presidential candidates. After Sanchez won a plurality of 12% of the votes cast, Cole, speaking for Cortez, ordered a runoff election among the top three candidates. Cortez threw his support behind former Senator Anthony Flores, who received a plurality of 45% of the votes, while Sanchez finished third with 18%.
Sobel makes no mention of Sanchez after his presidential candidacy.
---
Sobel's sources for Pedro Sanchez are editor Miguel Señada's Cortez and Hermión: Bitter Friendship (Mexico City, 1968); and Stanley Tulin's The Kramer Associates: The Cortez Years (London, 1970).
Community content is available under
CC-BY-SA
unless otherwise noted.