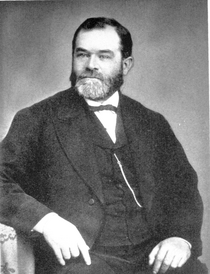 Patrick Gallivan was the president of the Indiana Northern Railroad and the father of Governor-General Ezra Gallivan. Gallivan emigrated from Ireland to the Confederation of North America soon after the Rocky Mountain War, hoping to strike it rich in the Vandalia copper fields. Arriving with his family in Michigan City, Gallivan found work as a railroad yardman.
Thanks to a talent for and interest in railroads, intelligence, and good fortune, Gallivan rose quickly at the Indiana Northern, becoming its president in 1861. With the help of two lawyers, Martin Kelsony and Abraham Lincoln, Gallivan was able to extend the line into Manitoba to the northwest, and to Southern Vandalia after that confederation was created in 1877. The Indiana Northern was the first North American railroad to join with the Mexican lines when the Southern Vandalia line was extended south to join with the Jefferson & California Railroad.
Patrick Gallivan and his son Ezra disagreed on social conditions in the C.N.A. Patrick believed that any poor man could rise to the top through hard work, while Ezra argued that C.N.A. business had become oppressive and must be regulated. When Ezra joined the People's Coalition in 1878, Patrick disowned him, marking the occasion by making a large donation to the Conservative Party. The two men never spoke to each other again.