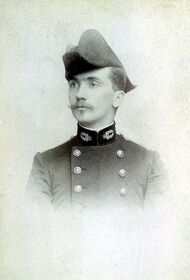 Captain Nathan Rusher was an aide to Minister of War Henry Gilpin in 1845. He is most notable for entering an 11 September 1845 Cabinet meeting with news that fighting had broken out seven days earlier between Mexican and North American troops at the disputed border between Mexico del Norte and Vandalia.
The Cabinet meeting had been called by Governor-General Winfield Scott to discuss a message he had received from newly-elected Mexican President Pedro Hermión seeking a peaceful resolution of the border dispute. Captain Rusher's news had the effect of preventing Scott from gaining a vote by the Cabinet against a declaration of war. As a result, the situation at the border would continue to deteriorate until open war had broken out by the end of the year.
---
Sobel's sources for Rusher's role in the September 11 Cabinet meeting are Gilpin's memoir No Apologies are in Order (New York, 1860) and William Cocke's Ceasar in Broadcloth (New York, 1910).
Community content is available under
CC-BY-SA
unless otherwise noted.