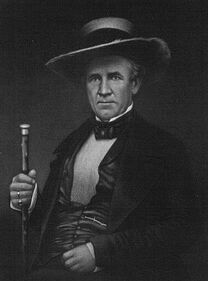 Miguel Huddleston (born Michael Huddleston, 1795 - 1860?) was the second President of the United States of Mexico, serving from September 1839 to September 1845. Huddleston was the first member of the Liberty Party to become President, and was the first President to lose a re-election campaign.
Early life and political career
Edit
Huddleston was born Michael Huddleston in the State of Jefferson in 1795, the son of Thomas Huddleston, who had taken part in the Wilderness Walk with Nathanael Greene. Thomas Huddleston had settled in western Jefferson, where he soon became a leading planter with interests in the slave trade. Michael Huddleston and his three sisters were born and raised on their father's plantation, and Michael was being groomed by his father to take his place upon his retirement.
When Jefferson intervened in the Mexican Civil War in 1816, Michael Huddleston volunteered for military service, and was with Andrew Jackson when he entered Mexico City on 17 February 1817. At the time, Huddleston had only contempt for the Mexicans, whom he saw as "only a trifle better than our slaves." However, he soon developed an admiration for Mexican culture, and in particular for Consuela Venegas, the daughter of a deposed Mexican official. Huddleston fell in love with Venegas, and in 1819 he married her after converting to Catholicism and changing his name to Miguel Huddleston.
Huddleston settled in Mexico City, and soon became wealthy as a cotton factor, purchasing a hacienda in Pimintel, Durango. Huddleston was elected to the Durango legislature in 1822, and the Mexican Senate in 1827, where he became a leader of the Liberty Party caucus. By 1833, he was recognized as the most talented politician in the Liberty Party, and had been adopted by Senate Minority Leader Arthur Younger as his protégé.
Younger was initially the Liberty Party caucus' choice for presidential candidate in the 1833 Mexican elections, but as the party's chances for success against Jackson grew, he threw his support behind Huddleston, saying, "I am sixty-six years old, and have amassed that many years' worth of enemies. I would have made the stand to offer the voters an alternative to Jackson, and for no other reason. But not it appears the people of Mexico are ready to overthrow the tyrant, and they need a potential president, and not only a symbol. Therefore, I hereby support Huddleston."
Huddleston was able to win the party's endorsement, despite the opposition of Douglas Watson of Chiapas and Henry Morris of Jefferson. Although the Libertarians only elected six of twenty-four senators in 1833, Senator John Shelby of California admitted later that "Huddleston was defeated by a phantom, not a man. We cast our ballots in '33 for the ghost of '17, not the man who stood before us."
Huddleston accepted his loss to Jackson with good grace, and immediately began preparing for the 1839 elections, when he knew Jackson would step down. The Panic of 1836 brought an end to the French loans that had sustained Jackson's internal improvements programs, and half-built roads had to be abandoned, as well as plans for a canal across Chiapas and an irrigation project in Mexico del Norte. The California Gold Rush of the late 1830s made California the center of economic activity in the U.S.M., leaving the Jeffersonian cotton barons of the Continentalist Party suffered a loss of wealth and prestige.
Presidency
Edit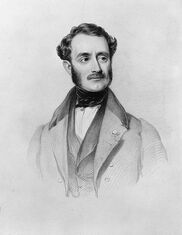 Huddleston received the Libertarian presidential nomination in 1839, and due to his astute party-building, the Liberty Party was poised to capture control of the Senate. Under the slogan "Progress Together", Huddleston supported equal rights for Mexicanos and Indians, the investment of California gold into internal improvements in Durango and Chiapas, and higher tariffs to encourage Mexican manufacturing. However, he refused to condemn slavery, and indicated that he would allow the institution to remain where it was and do nothing to disturb it in Jefferson. The Continentalists nominated John Mason of California, who attempted to echo Huddleston's policies. The Libertarians elected seventeen senators, and Huddleston was chosen as President in September 1839.
In his inaugural address, Huddleston said, "Progress Together is not a mere slogan, but the true goal of this administration. We have prospered in the past, and will continue to do so in the future. But this progress must be made together. All Mexicans must make their contributions and receive their fair share for work performed. Mexicano and Anglo, Indian and Hispano, are all equal and together in their efforts. Whether a man's origins can be traced to the Wilderness Walk or to the Conquistadores is of no importance today. He is not a dweller in the past, but in the present and the future. Viva Mexico! Long live the U.S.M.!"
Contrary to expectations, Huddleston did not expel the French or seize control of the gold mines. Instead, he retained the French bankers and assured the miners that they would not be interfered with by the federal government. There was a shift of public works to Chiapas and Durango, and a promised railroad to the California peninsula. Following Pedro Hermión's Scorpions in a Bottle speech on 7 May 1843, Huddleston's denounced Hermión's view of the U.S.M. and its future. "We have troubles enough in our own land without seeking new ones abroad. Mexican gold and silver will be used for the benefit of all, not the destruction of property and the murder of men."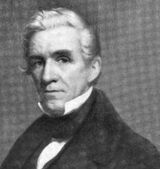 Unfortunately, Huddleston's attempt to bring harmony to the U.S.M.'s diverse population was unsuccessful. The Hispanos claimed that California gold was being used to enrich "Huddleston's Anglo friends," while the Indians and Mexicanos expressed dismay at "the President's lack of interest in our problems," and Anglos refused to trust a man who had gone Hispano himself. There were also charges of misappropriation of funds, many involving Secretary of the Exchequer William Wilson, and several minor officials in the Customs Bureau and Treasury Department were convicted of embezzlement and accepting bribes.
There was also opposition to Huddleston's policy of entente with the C.N.A., such as sending Secretary of State Isaac Shelby to Burgoyne to represent the U.S.M. at Governor-General Winfield Scott's investiture. Relations with the C.N.A. deteriorated in 1845 as miners from the two nations clashed in the disputed Broken Arrow region between Mexico del Norte and Vandalia. In April, Huddleston and Scott agreed to arbitration of the dispute by a three-nation panel, but the attempt failed. Between February and June 156 Mexicans and 197 North Americans were killed in Broken Arrow, and the settlements of Morelos and Kinsey were destroyed.
In the 1845 Mexican elections, the Libertarians renominated Huddleston for president, while the Continentalists nominated Hermión, who spoke of what he called "the coming struggle for the continent" and the "martyrs of Morales." Huddleston stressed the rising wealth of the nation, the growing accord between the races (which was unfortunately untrue), the expansion of Mexican foreign trade, and his internal improvements in Chiapas and Durango. News of further fighting in Broken Arrow came a week before the election, and the Continentalists won a fourteen-seat majority in the Senate, giving Hermión the Presidency.
Retirement
Edit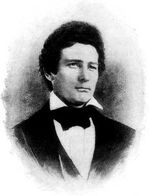 In retirement, Huddleston spoke out against Hermión's conduct of the Rocky Mountain War, claiming that he had exaggerated the border fighting out of proportion and calling for a cease fire and immediate negotiations with the C.N.A. Hermión's Secretary of War, Yves St. Just, called Huddleston "a man who is not really Mexican, or even a Mexicano, and whose heart may still be found east of the Mississippi," while Senator Joseph Marro of Mexico del Norte said Huddleston was "a traitor, pure and simple." A statue of Huddleston in Mexico City's Constitution Square was blown up, and President Hermión had to send a squad of men to protect Huddleston from angry pro-war mobs.
By 1851, public opposition to the war had grown to the point where there were several attempts made on Hermión's life. President Hermion was assassinated on 19 June 1851 by a former member of the Presidential Guard named Emiliano Zangora, who shouted "Viva Huddleston y Paz" before being killed himself. Suspicion that Huddleston was involved in Hermión's assassination, combined with his reluctance to re-enter politics, kept the Libertarians from nominating him for president in the 1851 elections, and Assemblyman Hector Niles received the nomination, going on to win the presidency.
The Mexican Congress estabished the Fuentes Commission to investigate Hermión's assassination, and its report issued in 1852 cleared Huddleston of any wrongdoing. However, suspicion that Huddleston had organized Hermión's assassination continued, and Sobel states that to this day there are those who believe him guilty.
Huddleston turned to literary pursuits in retirement, publishing a biography of his mentor, Arthur Younger, in 1855.
---
Sobel's sources for the life of Miguel Huddleston are Fernando de Durán's La Vida de Miguel Huddleston (Mexico City, 1909); Martin York's The Election of 1839 (Mexico City, 1910) and Huddleston, Scott, and the Rappochement of 1844 (Mexico City, 1929); Harper Reichart's The Election of 1845: The Mandate for War (Mexico City, 1956); Paul Murphy's Together Forever: The First Years of the Huddleston Administration (Mexico City, 1962); Jack Hollenberg's It Began in Triumph: Huddleston in 1841 (London, 1962) and It Ended in Tragedy: Huddleston in 1845 (London, 1966); and Samuel Menzer's The Huddleston Conspiracy: The Brown Menace of 1851 (London, 1970).
---
This was the Featured Article for the week of 25 November 2012.
Community content is available under
CC-BY-SA
unless otherwise noted.