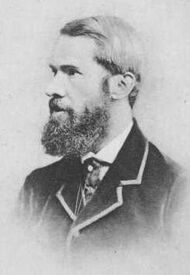 Matthew Ruffin was a Coalitionist Grand Council member from the Northern Confederation, and was the N.C. Coalition's nominee for Governor-General in 1878.
Sobel describes Ruffin as one of the Coalition's spokesmen in 1878, which suggests that Ruffin was the sole Coalitionist elected to the Grand Council from the N.C. in 1873. Since the Coalition gained control of the New Hampshire provincial legislature in that year, this further suggests that Ruffin was from that province.
In January 1878, the Coalition's national convention adopted Edward Dietrich's proposal that each confederation party choose its own nominee for Governor-General, and the Northern Confederation party nominated Ruffin. Ruffin exemplified the Coalition's early anti-urban and anti-immigrant beliefs, stating during the 1878 campaign that "The capitalists of the Northern Confederation are controlled from the City of London, and so are the slumdwellers, who have been sent here to aid their masters in making the C.N.A. a colony in fact as well as in theory."
In the balloting for Governor-General following the 1878 Grand Council elections, Ruffin initially received the votes of 20 of the Coalition's 39-member caucus, with Nathaniel Teller receiving the other 19. At one point in the balloting, Ruffin received the votes of all 39 Coalitionists, but when John McDowell won on the seventh ballot, Ruffin received only 12 votes.
By 1883, Ruffin had lost his leadership role in the Coalition to Scott Ruggles and Ezra Gallivan. Ruffin has no entry in Sobel's index.
---
Sobel's source for Matthew Ruffin's quote on immigrants is editor Julius Carter's Voices of Reform and Bigotry: The People's Coalition Speaks (New York, 1940).