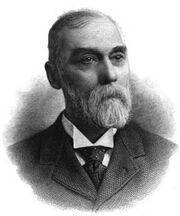 Marcos Ruíz was Secretary of State in the Cabinet of President George Vining. Although Vining originally indicated that he favored Senate Minority Leader Thomas Rogers for the office, he either changed his mind, or Rogers' nomination failed to pass in the Senate.
Ruíz was serving as Secretary of State when Vining suffered a fatal heart attack on the afternoon of 12 September 1881. The next morning, Ruíz called the Senate into session to choose Vining's successor. The Senate deadlocked between Rogers and Ruíz himself. Senator Frank Hill of California, acting on orders from Kramer Associates President Bernard Kramer, then suggested that as a compromise, the Cabinet as a body should act as chief executive of Mexico until the upcoming election scheduled for 21 September. Sobel states that under ordinary circumstances, the Senate would have rejected Hill's proposal, but that the situation was so unusual and perilous that the Senators agreed.
Despite the ongoing emergency, the Cabinet did not meet until 15 September. When Ruíz raised the matter of the upcoming elections, Constabulary Commandant Benito Hermión urged that they be postponed indefinitely. Hermión claimed that several important members of the opposition Liberty Party were being controlled by the revolutionary French government, and that a Libertarian victory would imperil Mexico. Ruíz asked Hermión for proof, but Hermión refused to provide any, claiming that two of his fellow Cabinet members were also under French control. A vote was taken, and six other Cabinet secretaries joined with Hermión in voting to postpone the elections. Hermión then proposed that for the duration of the emergency, a Chief of State should be chosen to act as sole executive. The Cabinet also voted to do so, and appointed Hermión himself to serve.
The next day, Hermión requested approval from the Senate for the Cabinet's decisions, but the Libertarians refused. That night, Constabulary agents arrested several Libertarian Senators, and on the afternoon of 17 September, a rump Senate of fourteen members unanimously voted to confirm Hermión's appointment as Chief of State.
Sobel makes no further mention of Ruíz after the 15 September Cabinet meeting, although he presumably remained Secretary of State under Hermión for some time. Ruíz does not have an entry in Sobel's index.
---
Sobel's sources for Marco Ruíz's role in the Hermión dictatorship are Felix Lombardi's Francophobia in Mexico: The Summer of 1881 (Mexico City, 1952); and Bernard Mix's The Night of the Caballeros: The Hermión Seizure (London, 1964).
Community content is available under
CC-BY-SA
unless otherwise noted.