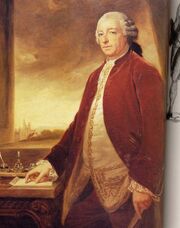 Lord George Germain (1716 - 1785), born George Sackville, was a British soldier and politician, best known for disobeying the orders of the Duke of Brunswick at the Battle of Minden, and supervising the British military campaign against the American rebels during the North American Rebellion.
Sackville was the third son of Lionel Sackville, Duke of Dorset. He served as his father's secretary during his tenure as Lord Lieutenant of Ireland in the early 1750s, between his service in the British Army during the War of the Austrian Succession and the Seven Years' War. It was during that war that Sackville was commander of the British contingent of a combined Anglo-German force under the command of Duke Ferdinand of Brunswick. At the height of the Battle of Minden Sackville refused Ferdinand's order to launch a cavalry charge at the retreating French army, since he refused to allow his subordinate, Lord Granby, to "gain glory" through an attack. After the battle Sackville was removed from command and later court-martialed.
With his military career over, Sackville focused on a political career, eventually allying himself with Lord North. It was at this time that a close family friend, Lady Elizabeth Germain, died at an advanced age, leaving Sackville her estate at Drayton and a large fortune. Sackville changed his name to Germain, and he was known afterwards as Lord Germain.
After the resignation of Lord Dartmouth as Secretary of State for America in November 1775, Germain succeeded to the post, which put him in charge of military strategy in the North American Rebellion, which had broken out the previous April. Germain's first year directing the war was uneven, with the conquest of New York City and Newport, Rhode Island to his credit, but the loss of Boston, Massachusetts and rebel victories in New Jersey casting a shadow.
In the early months of 1777 General John Burgoyne presented Germain with a plan to capture New York province by launching simultaneous attacks from Montreal and New York City. As Sobel notes, Burgoyne's plan should have worked without difficulty, but Germain "bungled the transmission of information to the British commands," and General Sir William Howe, who was to have led the attack from New York City, was instead allowed to carry out an attack on Philadelphia. Despite Germain's bungling, Burgoyne was able to carry his plan through, and his capture of Albany, New York, along with Howe's capture of Philadelphia, struck the Rebellion a fatal blow.
Sobel does not mention Germain after the end of the Rebellion, but he presumably remained a member of North's government until his declining health in 1783 led to his resignation.