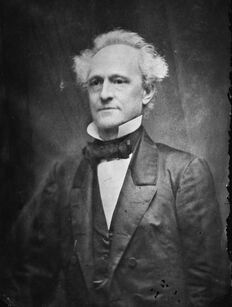 Kenneth Parkes (? - 1878) was the fifth Governor-General of the Confederation of North America, serving from February 1858 to February 1868.
Parkes served in the Rocky Mountain War under General Harry Chapin, and was military governor of Mexico del Norte. Parkes was elected to the Grand Council as a Councilman for the Northern Confederation in 1853.
In the 1858 Grand Council elections, the Liberal Party chose Parkes as their nominee for Governor-General. Thanks to wholesale vote-buying in the Northern Confederation, the bribing of two councilmen from Vandalia, and the blackmailing of five from Indiana, the Liberals won a six-seat majority in 1858 and Parkes was selected as Governor-General. Additional purchased seats in Vandalia and Indiana in the 1863 Grand Council elections brought the Liberal majority to 89 and secured Parkes a second term.
Under Parkes, the Hawley Tariff raised tariff rates to new heights, and the Bank of North America was transformed into a central bank under the control of New York City and London financiers. The Grand Council lowered taxes on large businesses and provided subsidies for railroads. Large sections of Vandalia were given to Parkes' cronies, presumably in return for bribes paid to Parkes.
Parkes declined to run for a third term in 1868. Instead, he organized a Liberal convention in Burgoyne which nominated his chosen successor, Northern Confederation Governor Victor Astor. Astor went on to lose the 1868 Grand Council elections to the Conservative Party candidate, Indiana Councilman Herbert Clemens. Parkes went into business after retiring from politics, amassing a fortune of N.A. £2,454,650 by the time of his death in 1878.
---
Sobel's sources for the political career of Kenneth Parkes are Sidney Bostwick's Every Man Has His Price: The Elections of 1858 (Burgoyne, 1958) and Leland Turner's The Tin Cup Governor-General: The Parkes Estate (New York, 1967).