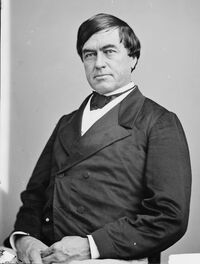 John Wolff
of
Indiana
was
Minister of War
in the
Cabinet
of
Governor-General
William Johnson
. Wolff represented the
Confederation of North America
in the 1853 peace negotiations at
The Hague
to end the
Rocky Mountain War
. Wolff and his
Mexican
counterpart,
Senator
Frank Rinehart
, agreed to reinstate the arbitration panel established in 1845, consisting of representatives from the
Germanic Confederation
, the
Netherlands
, and
Spain
.
Sobel does not say whether Wolff continued to serve as Minister of War in the Cabinet of Johnson's successor, Whitney Hawkins.
Sobel's source for John Wolff's career as Minister of War is Frank Taft's The End of the War: The Hague in 1853 - 1855 (Melbourne, 1967).