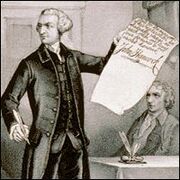 John Hancock (1737-1779) was a Massachusetts merchant and politician, and one of the nine leaders of the North American Rebellion executed for treason. Born in Braintree (near Boston), Hancock lost his father at the age of seven and was sent to live with his uncle Thomas, a successful Boston merchant. Educated at Boston Latin School and Harvard College, Hancock was groomed to succeed his uncle as head of the family firm, and in 1764 he did so and became one of the wealthiest men in the North American colonies.
As one of Boston's selectmen, Hancock led opposition to the Stamp Act and was then elected to the colonial legislature. In 1768 he was accused of smuggling but managed to escape punishment through a complicated set of legal proceedings. He spoke at the meeting leading to the Boston Tea Party of 1773, though he did not take part in or publicly approve the destruction of private property.
When Massachusetts Governor Thomas Gage suspended the colonial legislature in 1774, Hancock was elected President of the illegal Provincial Congress set up in its place. This body also chose Hancock as one of the colony's delegates to the Second Continental Congress of 1775. One of the objectives of the fateful British sortie from Boston in April 1775 was to capture Hancock and Samuel Adams in the town of Lexington. The pair escaped, and when resistance to the action led to open warfare Adams and Hancock were singled out by Gage as the only exceptions to his offer of general amnesty to any who would lay down their arms.
The following month, Hancock arrived in Philadelphia where the Congress elected him its president. He was rejected as military commander of the Rebellion in favor of the more experienced George Washington and was criticized by Samuel Adams for his lavish lifestyle while the army was suffering hardship. As president of the Congress, his signature on the Declaration of Independence of July 1776 is the most prominent -- indeed any signature in the United States of Mexico is often called a "John Hancock".
In October 1777 Hancock requested a leave from Congress to return to Boston and his wife of two years. With the general collapse of rebel military organization after the Battle of Saratoga, he made some desultory attempts to organize resistance to the reestablishment of royal authority in 1778. Captured by Loyalist forces in Freetown in October, he was brought to trial in England, convicted of treason, and put to death in January 1779.
Hancock is viewed in Mexico as a martyr of the Rebellion, and was a particular hero to the Liberty Party after the Rocky Mountain War. Puerto Hancock, California, one of Mexico's largest cities, is named in his honor.
---
Sobel's source for the life of John Hancock is Robert Scott's John Hancock: The Profiteer and the Patriot (New York, 1959).
Community content is available under
CC-BY-SA
unless otherwise noted.