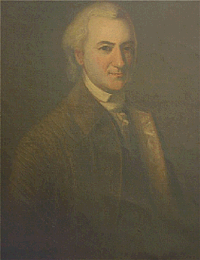 Sir
John Dickinson
(1732 - 1808?) was the first Governor of the
Northern Confederation
under the
Britannic Design
and the second
Viceroy
of the
Confederation of North America
. He was knighted by King
George III
in 1784 upon his appointment as Viceroy
Dickinson was born into a wealthy Quaker family in Maryland, and grew up in Kent County, Delaware. After marrying Polly Norris, a wealthy Philadelphia Quaker, in 1770, Dickinson made his home there. Dickinson was chosen as a delegate to the First Continental Congress of 1774, as well as to the Second Continental Congress of 1775. Dickinson was a moderate who opposed the Declaration of Independence, believing that the colonies ought to adopt an instrument of government and secure an alliance with France before seeking independence. Dickinson was absent when Congress voted for independence on 2 July 1776, and he refused to sign the Declaration, leading to his resignation from the Congress.
Dickinson joined the Pennsylvania militia and was given the rank of brigadier general. However, his opposition to independence led to his twice being passed over for promotion, and he resigned his commission in November and moved back to Delaware. While living in Delaware, he learned that his home in Philadelphia had been confiscated and converted into a military hospital.
Following the British victory in the Battle of Saratoga and the fall of Albany in October 1777, Dickinson was again appointed to the Continental Congress by the Delaware General Assembly, where he became the leader of the reconciliationists. Dickinson used his influence with the Pennsylvania General Assembly to arrange for Joseph Galloway to be appointed to the Congress in early 1778.  Following negotiations with the Earl of Carlisle, Congress agreed to an armistice and return to British rule in June 1778.
Dickinson and Galloway were summoned to London in 1780 to advise Lord North on the drafting of the Britannic Design, and when the Design went into effect on 2 July 1782, Dickinson was sworn in as Governor of the Northern Confederation. Following the death of Viceroy Albany in September 1783, Lord North appointed Dickinson Viceroy in 1784. Dickinson was still serving as Viceroy during the Trans-Oceanic War, but Sobel makes no further mention of him afterwards, and he may have resigned as Viceroy after the end of the war in 1799.
---
Sobel's sources for the life and career of Sir John Dickinson include Dickinson's memoirs, the three volume The Late Rebellion (Philadelphia, 1784) and My Life and Work (Philadelphia, 1804). Secondary sources include James Elson's Dickinson and Galloway in the Crisis Years (New York, 1901); Franklin Hope's John Dickinson's Years of Trial (London, 1917); and Percy Hargrave's six volume Dickinson of North America (London, 1960-1966).
---
IOW John Dickinson served as President of Delaware and President of Pennsylvania after resigning from the Continental Congress, and was a delegate to the Constitutional Convention of 1787 and an advocate for the Constitution.
Community content is available under
CC-BY-SA
unless otherwise noted.