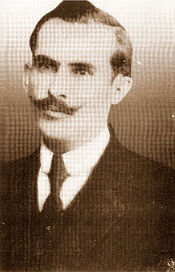 I Remember was a Mexican vitavision interview program in the late 1920s hosted by Miguel Callendra. On 12 October 1929, Callendra interviewed former Secretary of State Albert Ullman, who spoke of his time in the Cabinet of former President Emiliano Calles.
On the topic of Calles' intelligence and political talents, Ullman said "Some of my colleagues seemed to consider the President rather stupid and slothful. Had they forgotten the Battle of Chapultepec? They also considered him a poor politician. Did they realize what it takes to rise to field command in an army commanded by Anglos if you are a Mexicano? They were the fools, not Emiliano Calles."
On the drafting of the Manumission Act of 1920, Ullman said "We had no specific plan worked out in advance. All we knew was that freedom was the only answer. We were willing to allow the defenders of slavery to guide us in the way they would end the institution, and listened carefully in the next two weeks. Then we acted." Ullman also discussed his meeting on 30 April 1920 with Senator Rodrigo de la Casa, an important leader on the pro-slavery side. Rodrigo opposed a constitutional amendment, instead suggesting a simple bill to be passed by a voice vote in Congress. Ullman recalled ending the meeting by saying he would report the discussion favorably to Calles. Speaking of Assemblyman Pedro Fuentes' opposition to the Manumission Act, Ullman denounced it as "demagoguery of the worst kind."
On the subject of Calles' determination to offer Mexican statehood to the nations conquered by Benito Hermión, Ullman recalled meeting with the President on 15 March 1922, a week before his address to Congress on the subject, and strongly adivising against it. He said that he told Calles "If the leaders of New Granada, Siberia, and Guatemala accept our proposal -- and I doubt they will -- and the people vote for incorporation into the U.S.M., then they will become a burden we can barely afford to carry. If they don't, it will be a slap in the face from which we may not recover for many years." Ullman then summed up by saying, "there is everything to lose and nothing to gain from such a proposal."
Finally, discussing Calles' legacy, Ullman said "Calles doesn't care what people think. He lives in his own skull. It isn't that he has contempt for the masses. Having known him all these years, I feel his republican instincts were always strong. It's just that he has always placed personal conviction above all else. Criticize him for this if you will, but without it, the slaves would still be with us and Hawaii and Alaska would not be states."
Community content is available under
CC-BY-SA
unless otherwise noted.