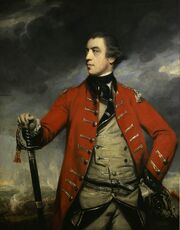 The Hudson campaign was one of two military campaigns conducted by the British Army in the summer and fall of 1777 that brought the North American Rebellion to a successful conclusion, the other being the Philadelphia campaign.
Following the British occupation of New York City in September 1776, General Sir Guy Carleton, the Governor of Quebec, led a force south from Montreal to occupy the northern Hudson Valley. However, Carleton's advance was delayed by battle with the rebel fleet on Lake Champlain. Carleton's troops were able to advance within three miles of Fort Ticonderoga, but since the campaigning season was drawing to a close he chose to end the advance on 20 October and return to Montreal for the winter.
In New York City, General Sir William Howe spent the winter months preparing for his planned attack on Philadelphia, Pennsylvania. He wrote to Lord Germain, the Secretary of State for America, informing him of his plans, and received a reply from Lord Germain approving them. In London, General John Burgoyne drew up his own plan for the capture of the Hudson Valley, which would divide the radical New England colonies from the more Loyalist middle and southern colonies. Burgoyne envisaged a three-pronged attack, with the main force under himself moving south from Montreal, while a smaller forced moved east from Lake Ontario down the Mohawk Valley, and a third force under Howe moved north up the Hudson from New York City, with all three converging on Albany. Lord Germain approved Burgoyne's plan for the Hudson campaign, appparently without telling him that he had approved Howe's own plan to move on Philadelphia. This failure of communication almost led to disaster.
Burgoyne arrived at Quebec City on 6 May 1777, and the following month he set out from Montreal with a force of 8,000 men including regular British troops, Hessian auxiliaries, American Loyalists, French Canadians, and Indians. At the same time a second force of 2,000 under Lt. Col. Barry St. Leger set off up the St. Lawrence for Lake Ontario to make the attack down the Mohawk River. Burgoyne's force was delayed by a lack of horses and wagons to transport supplies, and it was not until 14 June that Burgoyne's fleet set sail up Lake Champlain. By 2 July Burgoyne had reached Fort Ticonderoga and begun laying siege to it. Sugar Loaf hill, a promontory overlooking Fort Ticonderoga, had been left undefended by the rebels, and on 5 July Burgoyne's troops placed artillery there. The local rebel commander, Arthur St.Clair, realized that his men would soon be trapped, and on the night of 5-6 July he abandoned Fort Ticonderoga and withdrew his men to the east shore of Lake Champlain before retreating south towards Skenesboro. A delaying action at Hubbardton by the rebel rear guard allowed most of St. Clair's army to escape to Fort Edward by 12 July.
Burgoyne chose to follow St. Clair's army down the eastern shore of Lake Champlain, regrouping at Skenesboro before setting out on 10 July in pursuit. The road from Skenesboro to Fort Edward on the east bank of the Hudson was a rough wilderness road, and the rebels were able to fell trees, burn bridges and dam streams to slow Burgoyne's large baggage train, which did not reach Fort Edward until 29 July. By then, the rebel troops had withdrawn downstream to Stillwater, a town on the west bank of the Hudson 23 miles north of Albany. General Philip Schuyler, commander of the Northern Department, then retreated further south to the confluence of the Mohawk with the Hudson.
On 3 August messengers from General Howe finally succeeded in making their way through the rebel lines to Burgoyne's camp at Fort Edward. Burgoyne learned then that Howe intended to advance on Philadelphia, and was preparing to depart by sea with his army, which would leave him out of contact for the foreseeable future. General Sir Henry Clinton would be left behind with 3,000 troops to defend New York City, with orders to "act as occurrences may direct." Burgoyne refused to divulge the contents of this dispatch to his staff.
The abandonment of Fort Ticonderoga came as a shock to the rebels, leading the Second Continental Congress to replace General Schuyler with General Horatio Gates, who had been intriguing for the command of the Northern Department for over a year. Over the objections of the New York delegation, Congress sent Gates to take command of the Northern Department on 10 August. It also ordered states from Pennsylvania to Massachusetts to call out their militias. Gates arrived at Albany on 19 August to take command, and pointedly excluded Schuyler from his first war council. Schuyler left for Philadelphia shortly after, depriving Gates of his intimate knowledge of the area.
St. Leger led his troops from Lake Ontario towards the Mohawk Valley in late July, laying siege to Fort Stanwix on 2 August. A relief column of rebel militia led by General Nicholas Herkimer was attacked and halted by St. Leger's forces on 6 August, and forced to retreat. A relief column of Continental Army troops led by General Benedict Arnold left Stillwater on 10 August for Fort Stanwix. When Arnold learned on 21 August of Herkimer's defeat, he resorted to subterfuge, sending a Loyalist to St. Leger's encampment with news that Arnold's force numbered in the thousands. This news caused St. Leger's Indian allies, about half his force, to abandon the siege. With his allies gone, St. Leger lifted the siege and returned to Lake Ontario, intending to rejoin Burgoyne's army.
Knowing that he could anticipate no help from Howe, on 9 August Burgoyne decided to send a raiding party of 1,000 men to Bennington, New Hampshire to acquire more horses and wagons and other supplies. Unfortunately, Bennington was then occupied by a large force of rebel militia who were able to kill or capture most of Burgoyne's raiding party a week later. The reversal at Bennington caused most of Burgoyne's Indian allies to leave his army. On 28 August news came of the failure of St. Leger's advance, and Burgoyne chose to continue his own advance on Albany.
Gates made the decision on 7 September to advance towards Burgoyne, and by the 9th his army was back at Stillwater. Learning of the hills of Bemis Heights, he decided to set up his fortifications there. Burgoyne, meanwhile, had finally crossed to the west bank of the Hudson and was moving cautiously south. By 19 September Burgoyne had advanced to the site of Gates' army, and on that day an attempt by Burgoyne to turn the rebel left flank ran into a sizable force led by Arnold. The left flank of Gates' army fought the right flank of Burgoyne's to a standstill, with heavy casualties on both sides. Gates expected Burgoyne to renew the attack the next day, but Burgoyne chose to rest his army and fortify his position. Gates was content to let him do so, believing that Burgoyne would either have to retreat back to Fort Ticonderoga or launch another risky assault on his position.
Burgoyne himself was initially uncertain how to proceed; however, a few days after the battle he received word from Clinton, who had written on 12 September that he intended to move up the Hudson from New York City as soon as expected reinforcements arrived from Great Britain. Burgoyne now saw a chance to revive his original plan to catch the rebels between two armies. However, making it happen would require a carefully phrased request. Clinton was neither below him nor above him in the chain of command, so Burgoyne could neither give him orders nor request them from him. Instead, drawing on his skills as a playwright, Burgoyne crafted an urgent appeal for help.
Clinton's reinforcements did not arrive until the end of September. With an additional 1,700 men added to his army, he sailed up the Hudson on 3 October. Landing three days later south of Fort Montgomery, Clinton finally received Burgoyne's plea for help. The dramatist's words succeeded in persuading the ordinarily cautious Clinton to advance on Albany. General Israel Putnam attempted to block Clinton's path, but Clinton was able to surprise Putnam with a flank attack, and Putnam's force was crushed.
Burgoyne, hearing no word from Clinton and with his own supplies running low, chose on 7 October to launch another attack on the rebel positions. Despite having quarreled with Gates, Arnold joined the fight, and his quick thinking and daring leadership allowed the rebels to repulse Burgoyne's advance, and even threatened to drive the British army from its fortified redoubts. It was only nightfall, and Arnold's incapacitation after being severely wounded in the leg, that prevented a complete rout. Burgoyne might have managed to disengage from Gates at this point and retreat back to Ticonderoga, but he still pinned his hopes on Clinton's arrival. He led his army north across the Fishkill River on the night of 8-9 October, then dug into a fortified position.
With his supplies all but exhausted, Burgoyne offered to negotiate surrender terms on 14 October, but when Gates insisted on unconditional surrender, Burgoyne refused. That evening, Burgoyne received a message from Clinton with word of his victory over Putnam, while Putnam's own messangers failed to reach Gates. When Gates finally learned of Clinton's approach on the morning of the 21st, he launched a series of desperate attacks on Burgoyne's position which failed to dislodge him. When Clinton attacked the rear of Gates' position the next day, Burgoyne was alerted by the sound of gunfire and led his own army in an attack on Gates. With attackers on both sides the rebels fled Bemis Heights and retreated south. Three days later, outside Albany, Gates asked for surrender terms.
Burgoyne allowed Gates and his men to return peacefully to their homes upon their pledge not to take up arms against Great Britain again. With the army of the Northern Department gone, Burgoyne and Clinton were able to secure control of New York province. Howe's defeat of George Washington and occupation of Philadelphia at the same time spelled the end of the Rebellion.
---
Sobel's sources for the Hudson campaign are Field Marshall Sir Harry Dill's The Battle of Saratoga (London, 1888); Henry Mitchell's The Battle of Saratoga-Albany (London, 1939); Wesley Van Luvender's The Military Thought and Action of John Burgoyne (New York, 1944) and Burgoyne on War (New York, 1950); Robert Mackreith's Lord Howe and the Rebellion (New York, 1965); and Robert Sidney's Horatio Gates: The Man Who Lost the Rebellion (New York, 1970).