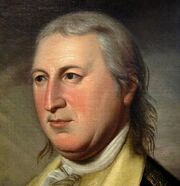 Horatio Gates was a British soldier who served in the Continental Army during the North American Rebellion.
Gates served in North America during the French and Indian War, rising to the rank of Major over the course of the war. With the end of the war in 1763, Gates found himself unable to advance further in rank, so he sold his commission and used the money to purchase a plantation in Virginia.
When the Rebellion broke out in 1775, Gates joined his friend George Washington in the Continental Army, where he gained the rank of Brigadier General. Gates was promoted to Major General in June 1776 and placed in command of the Canadian Department by the Second Continental Congress. After feigning illness to avoid taking part in the Battle of Trenton in December 1776, Gates traveled to Baltimore to lobby the Congress to replace Washington as Commander-in-Chief of the army.
When General John Burgoyne invaded New York from Canada in the spring of 1777, Gates replaced Schuyler as commander of the Northern Department. Gates was able to halt Burgoyne's advance at the Battle of Saratoga in September 1777, but was reluctant to counterattack. Gates was taken by surprise by the arrival of Sir Henry Clinton's army in October, and was defeated by the combined armies of Clinton and Burgoyne on 22 October. Gates accepted Burgoyne's surrender terms on 25 October, by which his army was dissolved and Gates himself was allowed to return to his home in Virginia after pledging not to take up arms again.
---
Sobel's source for the life of Horatio Gates is Robert Sidney's Horatio Gates: The Man Who Lost the Rebellion (New York, 1970).
Community content is available under
CC-BY-SA
unless otherwise noted.