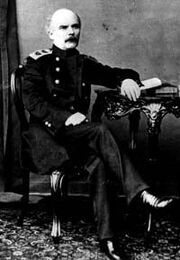 General Herbert Williamhouse was a North American military leader during the Rocky Mountain War of 1845 to 1855.
General Williamhouse commanded a North American force that landed at Tampico, Durango, on July 8, 1846. After securing the city, Williamhouse advanced on Mexico City. Mexican President Pedro Hermión sent the District Guards under Major Michael Doheny to meet Williamhouse's force on the Tampico Road, with orders to hold him there until reinforcements could be sent. Doheny was able to carry out a successful attack against the larger North American force at the Battle of Tampico Road, and Williamhouse was obliged to retreat back to Tampico. Doheny placed Tampico under siege, and despite the addition of more North American troops, Williamhouse was unable to break out of the city. The siege of Tampico continued for nearly two years, until Williamhouse was forced to withdraw from the city on March 5, 1848. Sobel mentions that 10,000 North American soldiers died of disease in the course of the Durango campaign.
---
Sobel's source for Herbert Williamhouse's role in the Rocky Mountain War is Edgar Almond's Michael Doheny: The War Years (Mexico City, 1969).