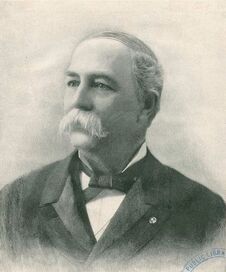 Henderson Nelson was a Liberal member of the Grand Council from the Northern Confederation who served in the 1890s. As a member of the Committee on Rules, he may have been a member of the delegation that met with Governor-General Ezra Gallivan and Councilman Fritz Stark on the evening of 19 July 1899 to discuss Stark's allegation that Gallivan was in the pay of Kramer Associates.
Although Nelson was a member of the minority party, he was made Chairman of the Special Subcommittee of the Rules Committee to Investigate Charges of Treason. Gallivan had specifically requested that a member of the opposition party chair the Subcommittee "to remove any doubts as to its impartiality." Sobel adds that another reason for Gallivan's request was that all of the Subcommittee members from his own People's Coalition were supporters of his rival Thomas Kronmiller, who sought to replace him as the leader of the P.C.
Sobel states that Nelson's fairness and willingness to hold open hearings as the Subcommittee met was admitted by all, and that the Subcommittee did a most difficult job with care and dispatch. Despite frequent interruptions and threats, the Subcommittee was able to complete its investigation within two weeks. The Subcommittee found that Stark's charges were wholly without foundation, and that Stark had been taken in by forged documents prepared by John Montalban, a mentally ill clerk in the Mexican embassy.
Nelson received the Liberal nomination for governor-general in the 1903 Grand Council elections, based on the reputation for integrity he had gained as Chairman of the Nelson Subcommittee. Like the P.C. candidate, Councilman Christopher Hemingway, Nelson was a moderate, and although more willing than Hemingway to join with Great Britain in common programs, was not an internationalist.
Although Hemingway had little difficulty defeating Nelson, Sobel states that the voters were neither rejecting Nelson nor choosing Hemingway. He quotes a reporter from the Burgoyne Times who wrote that the voters "expunged their guilt by voting Gallivan his fourth term."
Sobel erroneously refers to Nelson as "Clark Nelson" on p. 256. Nelson does not have an entry in Sobel's index.
---
Sobel's sources for Henderson Nelson's Chairmanship of the Special Subcommittee are the Subcommittee's Report of the Inquiry into Charges of Treason (Burgoyne, 1900) and Allen Watterson's The Great Fear: Starkism in the C.N.A. (London, 1956).