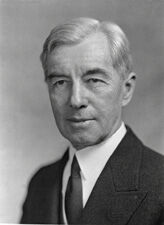 Harley Shaw was a member of the Grand Council of the Confederation of North America from the Southern Confederation, and Minority Leader of the People's Coalition caucus in the Eighteenth Grand Council of 1928 to 1933.
Douglas Watson, who succeeded to the office of Governor-General upon the death of his predecessor Henderson Dewey in 1929, was considered unbeatable in the 1933 Grand Council elections. This presented the Coalitionists with a dilemma, which was represented by their two leading candidates. Shaw represented those who sought to emulate Watson's policies, while Councilman Bruce Hogg of Northern Vandalia represented those who wished to reject them. Shaw himself had supported many of Watson's programs, including his expansion of the National Financial Administration. Shaw also agreed with Watson that the C.N.A. needed a stronger foreign policy, and he pledged himself "to seek a more reasonable relationship with the United Empire if elected."
Hogg, however, charged the N.F.A. with "irresponsibility," and Watson with "pandering to the basest elements of our society." He also called Watson's tentative explorations overseas, "an invitation to disaster." Their supporters engaged in a bitter struggle at the Coalition's national convention in Michigan City in January 1933 that left the party divided and dispirited. Shaw was able to gain the nomination, and Hogg conceded gracefully, pledging himself to work for a Coalition victory.
The combination of prosperity, redistricting, and the high regard for Watson's late predecessor resulted in the greatest electoral victory in the C.N.A.'s history. Afterwards, Shaw remarked that, "In the beginning I thought we might take it all. Then I hoped we might squeak out a victory. Toward the end I became assured that we would lose by a fairly large margin. But I was not prepared for Armageddon."
Sobel makes no further mention of Shaw after his defeat by Watson. It is possible that Shaw's seat was one of the three in the S.C. that the Coalition lost to the Liberals, since the opposition to Watson in the Nineteenth Grand Council was led by Hogg. Shaw does not have an entry in Sobel's index.
---
Sobel's source for Harley Shaw's campaign for governor-general is George Black's Armageddon, Watson Style (Burgoyne, 1934).