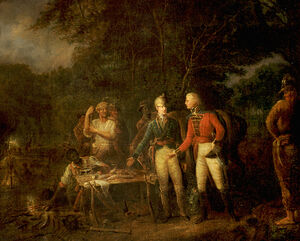 Francis Marion (1732-1796) was a rebel commander during the North American Rebellion and a leader of resistance to the Confederation of North America in Virginia from the Rebellion through the Trans-Oceanic War.
Born in South Carolina, Marion served in the French and Indian War against the Cherokee Indians under William Moultrie. He fought in the defense of Charleston in 1775, again under Moultrie, and was commissioned a lieutenant colonel by the Second Continental Congress in September 1776.
With the collapse of organized resistance to British rule across the Southern Confederation in 1778, Marion joined irregular rebel forces in the mountainous areas of north central Virginia. He led these forces until 1796, and the legacy of his activities is still noticeable in the oddity and anti-CNA feeling among the "hill people" of that area.
---
Sobel's sources for Marion's rebel activities are Harry Content's Never Give Up: Rebels After the Rebellion (New York, 1950); Ralph Ocon's The People We Left Behind: The Remnant in the C.N.A (Mexico City, 1959); and Daniel Pitchon's Vermont and Western Virginia in the Decades Following the Britannic Design (Mexico City, 1965).
In For All Nails Marion dies during the Trans-Oceanic War leading an attack on Norfolk in coordination with a naval assault by French and Spanish forces.
Community content is available under
CC-BY-SA
unless otherwise noted.