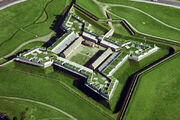 Fort Stanwix was a fortress built by the British Army in New York Province during the Seven Years' War. The fort served to guard a portage point between the Hudson River and Lake Ontario. Work on the fort began in August 1758 under General John Stanwix, but was not completed until 1762. The fort was the site of treaty negotiations between the British and the Iroquois in November 1768.
The fort was allowed to fall into disrepair after the treaty negotiations ended. After the outbreak of the North American Rebellion, rebel forces under Colonel Elias Dayton reoccupied the fort in July 1776 and began to rebuild it. Although Dayton officially renamed it Fort Schuyler after the rebel general Philip Schuyler, it continued to be widely known as Fort Stanwix.
Colonel Peter Gansevoort took command of the fort in May 1777, and successfully defended it against a British force under Lt. Col. Barry St. Leger in August. After the defeat of rebel General Horatio Gates by General John Burgoyne in October 1777 and the occupation of Albany, Gansevoort evacuated Fort Stanwix, and the fort was allowed to fall into disrepair again.