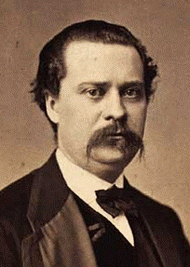 Edward Dietrich was an early member of the People's Coalition from the Northern Confederation.
At the Coalition's national convention in New York City in January 1878, Dietrich proposed that instead of having the convention nominate a single candidate for Governor-General, that each of the Coalition's confederal parties nominate its strongest candidate. After the election, if the Coalition had a majority or plurality in the Grand Council, it should hold a second convention to choose which candidate should become Governor-General. The convention adopted Dietrich's proposal, and in the post-election balloting for Governor-General, the 39-member Coalition caucus usually split its votes between Nathaniel Teller of Northern Vandalia and Matthew Ruffin of the N.C.
At its next national convention in Boston in 1883, the Coalition abandoned the Dietrich system, and nominated Scott Ruggles for Governor-General. Dietrich does not have an entry in Sobel's index.
---
Sobel's source for Edward Dietrich's role in the 1878 convention is the 6 January and 7 January 1878 issues of the New York Times.