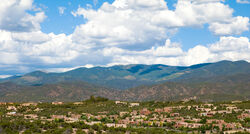 Conyers is the capital and largest city of the Mexican state of Mexico del Norte.
The area now occupied by Conyers was first settled by the Tanoan Indians in the tenth century, and the site has been continuously occupied since then. The Spanish conquistador Juan de Oñate y Salazar occupied the site in 1598, establishing the province of Santa Fe de Nuevo México. The province's first colonial governor, Pedro de Peralta, established Santa Fe as the capital in 1608 under the name La Villa Real de la Santa Fe de San Francisco de Asís (The Royal Town of the Holy Faith of Saint Francis of Assisi). Spanish rule ended temporarily after the Pueblo Revolt of 1680, then was re-established in 1692.
Following the establishment of the United States of Mexico in 1820, President Andrew Jackson renamed Santa Fe after Horatio Conyers, his former commander in the Jeffersonian militia who died in battle during the crossing of the Rio Grande in 1816. The province of Nuevo México was established as one of the six states of the U.S.M. and renamed Mexico del Norte. Late in 1823, during his grand tour of the U.S.M., President Jackson visited Conyers and gave a speech there to Mexico del Norte's legislature.
During the Rocky Mountain War with the Confederation of North America, Generals Philip Lodge of the Northern Confederation and Harry Chapin of Indiana made repeated attempts to conquer Conyers, all of which were defeated by Mexican armies led by, or allied with, the Cheyenne war chief Running Deer. The defeat of the North Americans allowed the Mexicans to complete the Jefferson & California Railroad, which connected Conyers to the Gulf port of Henrytown, Jefferson, and boosted the economic development of Mexico del Norte.
During the Rainbow War of 1944 - 1952, Conyers was a target of attacks by the Black Justice Party, a Negro terrorist organization based in Arizona. The B.J.P. was crushed in 1952 by the government of Secretary of War Vincent Mercator.