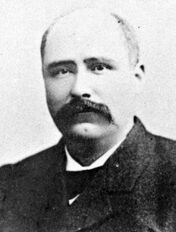 The
Confederation Bureau of Investigation
, or
C.B.I.
, is a the national police force of the
Confederation of North America
. The C.B.I. was established in 1878 by
Governor-General
John McDowell
for the purpose of investigating government corruption. When the
Great Depression
of the early 1880s brought an upsurge in social disorder, McDowell changed the C.B.I.'s mission to investigating subversives. He appointed Colonel
Mark Forsyth
to replace Superintendent
Geoffrey Prentice
and doubled the size of the C.B.I.
The growing power of the C.B.I. was criticized by the People's Coalition, particularly by Michigan City Mayor Ezra Gallivan. By 1885, there was a growing outcry in the Northern Confederation and Southern Confederation over the C.B.I.'s methods. After becoming Governor-General in 1888, Gallivan announced in his inaugural address that "the C.B.I. has become far too powerful for a free people to bear." Gallivan reduced the C.B.I.'s budget, and replaced Forsythe with Vice-Commandant Norton Kamen, which displeased members of the Coalition who wanted the agency abolished.
Following the Chapultepec Incident of 1916, the C.B.I. arrested 232 North Americans who were returning from the United States of Mexico, charging them with "actions injurious to the nation." 154 of them were found to be directly or indirectly involved with the Incident and were imprisoned. At this time, the C.B.I. had dossiers on over 100,000 North Americans who were suspected radicals.
When the C.B.I. uncovered the Michigan City Spy Ring in 1969, the leaders of the Peace and Justice Party claimed that the charges were fabrications.
---
A major character in For All Nails is C.B.I. director Timothy Liddy.
Community content is available under
CC-BY-SA
unless otherwise noted.