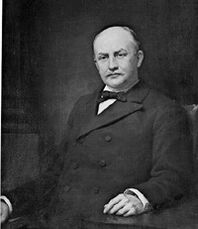 Clifton Burgen was the ninth Governor-General of the Confederation of North America, serving from July 1901 to February 1903. He was the third governor-general to succeed to the office following the resignation of his predecessor.
Burgen was serving as a Grand Council member from Northern Vandalia when Ezra Gallivan resigned the Governor-Generalship on 24 July 1901. When the People's Coalition caucus met the next day to select the next Governor-General, the two leading contenders were Councilman Thomas Kronmiller and Minister for Home Affairs Leonidas Rubey. However, neither man could command a majority, so the caucus settled on Burgen as a compromise candidate when Burgen agreed not to seek the nomination for the 1903 Grand Council elections. Sobel quotes Kronmiller as saying, "Burgen had everything in his favor. No one knew who he was, and neither did he."
Following Benito Hermión's fall from power in the U.S.M. in October, the disorders of the Starkist terror came to an end, and Burgen's remaining period in office was uneventful. Burgen was the first Governor-General to deliver a radio address to the nation in 1902. At that time, six years after radio's invention by Thomas Edison, Burgen's message was heard in only six cities.
---
Sobel's sources for Clifton Burgen's career as Governor-General are Arnold Marriot's Years of the Pygmies (New York, 1923), Warren Wallgren's The Burgen Administration: A History (New York, 1960), and Leland French's In the Shadow of the Giants: The Burgen-Hemingway-Merriman Years (New York, 1969).