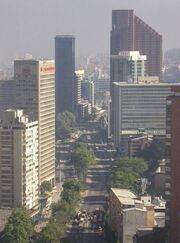 Bogotá is the capital of the Republic of New Granada. The city was founded as Santa Fé de Bogotá in 1538 by the Spanish conquistador Gonzalo Jiménez de Quesada. The settlement became the capital of the Audiencia of Santa Fé de Bogotá under the Viceroyalty of Peru in 1540. In 1717, Bogotá became the capital of the newly-established Viceroyalty of New Granada, and remained so after New Granada won its independence from Spain after the Trans-Oceanic War.
During the War of Salvation, Bogotá was captured on 8 June 1890 by the 34th Bridage of the United States Marines under Colonel David Brewster. Bogotá remained the capital of New Granada after Mexican Chief of State Benito Hermión installed his brother Victoriano Hermión as the nation's president.
Community content is available under
CC-BY-SA
unless otherwise noted.