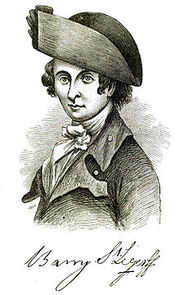 Barrimore Matthew "Barry" St. Leger (1733 – 1789) was a British army officer. St. Leger was active in the Hudson Campaign, commanding an invasion force that unsuccessfully besieged Fort Stanwix before joining General John Burgoyne at Albany after the Battle of Saratoga.
St. Leger was born into a prominent family County Kildare, Ireland in 1733. He joined the British Army in April 1756, serving as an ensign in the 28th Regiment of Foot. He saw service in the French and Indian War under the command of Jeffery Amherst at the 1758 siege of Louisbourg, and in 1759 under the command of James Wolfe at the Siege of Quebec. He was appointed brigade-major in July 1760 and served as a staff officer in the campaign against Montreal under James Murray. On 16 September 1762, St. Leger was promoted to major in the 95th Regiment of Foot.
After the outbreak of the North American Rebellion in April 1775, St. Leger, then a lt. colonel with the 34th Regiment of Foot, took part in the offensive against the rebel Continental Army in Quebec in the spring of 1776. St. Leger was placed in command of a mixed force of 1000 British regulars, Hessian auxiliaries, French Canadians, and American Loyalists, and another 1000 Indians, that marched east from Fort Oswego in the spring of 1777 as part of the Saratoga Campaign. St. Leger's force laid siege to the rebel Fort Stanwix on 3 August. A force of rebel militia led by General Nicholas Herkimer was defeated three days later, but a raid by the fort's defenders resulted in the loss of many supplies. When word reached St. Leger on 21 August that a large force under General Benedict Arnold was approaching, his Indian allies deserted him, and he was forced to lift the siege and withdraw to the west. It was later learned that St. Leger had been misled by a false informant, but by then it was too late to resume the siege.
St. Leger led the remainder of his force back to Fort Ticonderoga. When word came of Burgoyne's victory over the rebel forces at Saratoga on 25 October, St. Leger led his men south and joined Burgoyne in Albany. St. Leger remained with Burgoyne in New York City during his years as Viceroy of the Middle Colonies. He resigned from the army in 1785 due to poor health, returned to Great Britain, and died there in 1789.