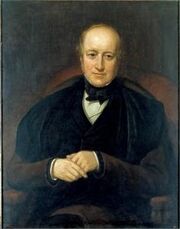 Sir Alexander Haven was the last Viceroy of the Confederation of North America under the original Britannic Design, serving in the late 1830s and the early 1840s.
Haven was Viceroy in the summer of 1839 when Chief John Miller led an Indian uprising in Indiana. Following Miller's capture of Michigan City on 21 July, Haven called an emergency meeting of the Grand Council, which met on 15 August in Burgoyne. The Grand Council agreed to the formation of a united North American army under General Winfield Scott to deal with the situation. General Scott's army went on to retake Michigan City on 19 October, after which Miller's entire army was massacred.
At the same time, Haven was watching the 1839 Mexican elections, which saw the victory of the Liberty Party under Senator Miguel Huddleston. Haven had referred to the previous Mexican President, Andrew Jackson, as "a thoroughly rotten person," and he welcomed Huddleston's election. Haven persuaded the Governor of the Northern Confederation, Daniel Webster, to represent the C.N.A. at Huddleston's inauguration in September 1839.
In November 1841, Haven was informed of the results of the conventions in Concordia and Brant, both of which called for the amending of the Britannic Design to create a more unified nation. Haven submitted these proposals to London, where they were viewed favorably by both Queen Victoria and Prime Minister Sir Duncan Amory. Parliament gave its consent to an extraordinary meeting of the Grand Council to amend the Design. At the Burgoyne Conference of June to September 1842, the Grand Council passed the Second Britannic Design, reforming the C.N.A.'s government.
Sobel makes no further mention of Haven after the Burgoyne Conference.
---
Sobel's source for the life of Sir Alexander Haven is William Cocke's Sir Alexander Haven: Proconsul in the Wilderness (New York, 1910).