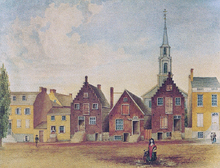 Albany, New York is a city at the confluence of the Hudson River and the Mohawk River upstream from New York City. It was founded in 1614 as a Dutch fur trading post and incorporated as the village of Beverwijck in 1652. The village was renamed Albany in 1664 after the English conquered the New Netherland colony in the Second Anglo-Dutch War.
Albany was the chief city of the upper Hudson River in the eighteenth century, which made it the obvious meeting place for the Albany Congress in 1754, when representatives from seven British colonies met to discuss measures for mutual defense in the face of growing encroachments from French Canada. Pennsylvania delegate Benjamin Franklin proposed the Albany Plan of Union to create a unified government for the British colonies. Although Franklin's plan was not adopted, it served as the model for the later Britannic Design.
With the outbreak of the North American Rebellion in 1775, Albany's strategic position between New York City and Quebec made it a natural target when General John Burgoyne invaded New York province from Montreal in the spring of 1777. Burgoyne's victory at the Battle of Saratoga allowed him to occupy Albany, which divided the turbulent New England colonies from the more Loyalist colonies of the Mid-Atlantic and the South. The loss of Albany to Burgoyne, along with the simultaneous loss of Philadelphia to General William Howe, dealt a mortal blow to the Rebellion, which ended the following summer. Burgoyne's victory led to his being granted the title Duke of Albany in 1781 by King George III.