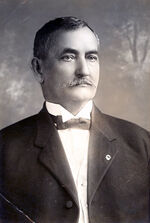 The 1908 Grand Council elections took place on 15 February 1908, for the purpose of choosing the Fourteenth Grand Council of the Confederation of North America. The elections returned a majority for the People's Coalition for the fourth time running, resulting in the elevation of Councilman Albert Merriman to the office of Governor-General.
Incumbent Governor-General Christopher Hemingway chose not to run for a second term, announcing on 6 September 1907 that he intended to retire to the Grand Council "and the company of my friend and mentor Ezra Gallivan" at the end of his term. Hemingway was the most popular governor-general in North American history, and he and Gallivan were able to persuade their party to choose Councilman Merriman of Indiana as its nominee for the office. Merriman was much like Hemingway (Sobel refers to him as a "carbon copy"), having no desire to innovate and a great love of crowds and travel.
The opposition Liberal Party, which had not won a majority in the Grand Council since 1883, nominated Councilman Guy St. Just of the Northern Confederation. On election day, the P.C. was able to increase its majority in the Council from 83 seats to 90, improving its standing in every confederation except St. Just's N.C.
The election was notable for being the first to be broadcast on a Nova Scotia-to-Manitoba radio hookup, with the entire nation staying up through the night of 15-16 February to listen to the election returns.
Following the P.C. victory and Merriman's elevation to governor-general, Gallivan's rival Thomas Kronmiller bitterly remarked, "In this way we enter the fifth term of King Ezra Gallivan."
---
Sobel's sources for the 1908 Grand Council elections are Hemingway's The Way of the World (New York, 1911); and the 17 February 1908 issue of the New York Herald. Election results are from the New York Herald, 16 February 1908.