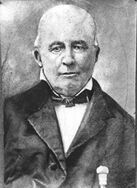 The 1853 Grand Council elections took place in February 1853, for the purpose of choosing the Third Grand Council of the Confederation of North America.
The elections were dominated by growing popular opposition to the ongoing Rocky Mountain War. The incumbent Governor-General, Henry Gilpin, chose not to run for another term, and the Unified Liberal Party caucus in the Grand Council nominated Northern Confederation Councilman Bruce Harrison as their candidate for Governor-General. The National Conservative Party caucus declined to nominate longtime party leader Willie Lloyd of the Southern Confederation due to his inconsistent stand on the war, and instead nominated Manitoba Councilman William Johnson, who had opposed the war from the start.
Harrison proposed a gradual withdrawal of C.N.A. forces from the Rocky Mountain area and a "peace with dignity," to be negotiated with the United States of Mexico. Johnson called for an immediate halt to the fighting and a unilateral withdrawal of C.N.A. forces from Arizona, followed by a peace conference to determine the disposition of the section of Mexico del Norte occupied by the C.N.A.
As a result of the elections, the makeup of the Third Grand Council was 91 National Conservatives and 59 Unified Liberals, and Johnson was chosen as the third Governor-General, at the head of a peace cabinet. Two months after his investiture as governor-general, Johnson informed Mexican President Hector Niles that he would accept the offer of negotiations made by Niles two years earlier, and suggested The Hague in the Netherlands as the best place for preliminary discussions.
1853 Grand Council elections

| | | |
| --- | --- | --- |
| Confederation | National Conservative Party | Unified Liberal Party |
| Indiana | 7 | 17 |
| Manitoba | 15 | 4 |
| Northern Confederation | 32 | 12 |
| Quebec | 22 | 2 |
| Southern Confederation | 15 | 15 |
| Vandalia | 0 | 9 |
| TOTAL | 91 | 59 |

One of the 59 Unified Liberals was General Kenneth Parkes, the Military Governor of Mexico del Norte, who won election to the Grand Council in the Northern Confederation.
---
Sobel's source for the 1853 Grand Council elections is Winsor Watkins' The Late Bloomer: William Johnson and the Election of 1853 (New York, 1969). Election results are from the New York Herald, 16 February 1858.