We're Getting Mutants in the MCU - The Loop
Play Sound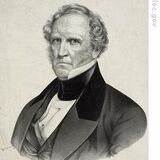 The 1843 Grand Council elections took place on 14 February 1843, for the purpose of choosing the First Grand Council of the Confederation of North America. The elections returned a 91 seat majority for the Unified Liberal Party.
The elections were the first to take place after the adoption of the Second Britannic Design by the Burgoyne Conference of 1842. General Winfield Scott of Indiana was the most popular member of the U.L.P., and he took the lead in campaigning for his party's Grand Council candidates. His chief opponent was South Carolina Governor Willie Lloyd of the National Conservative Party.
Lloyd called for a broad program of social reform, while Scott emphasized the opportunities to be found in the frontier confederations of Manitoba and Vandalia and opposed what he called "Conservative paternalism." With the economy fully recovered from the Panic of 1836, ongoing fears of insurrections in Quebec, Indiana, and the Northern Confederation, and deteriorating relations with the United States of Mexico, the Unified Liberals won 91 seats in the Grand Council, against the National Conservatives' 59. The Unified Liberal caucus, led by former Governor Henry Gilpin of the N.C., chose Scott as the C.N.A.'s first Governor-General.
In a speech after his victory, Scott urged good will and predicted a glowing future for the C.N.A., ending with the words, "Now we are one. Our nation has survived a period of trial, and is stronger than ever before. There is no distinction between Indianan and Northern Confederationist, no disharmony of interests between Quebec and the Southern Confederation. These four states will help develop Manitoba, already a rapidly growing part of the Confederation. And all will defend Vandalia against those who would threaten her integrity. Now we are one."
The 1843 Grand Council Elections

| Confederation | National Conservatives | Unified Liberals |
| --- | --- | --- |
| Indiana | 7 | 17 |
| Manitoba | 10 | 9 |
| Northern Confederation | 13 | 31 |
| Quebec | 15 | 9 |
| Southern Confederation | 12 | 18 |
| Vandalia | 7 | 2 |
| Total | 59 | 91 |

One of the 59 National Conservatives was William Johnson of Manitoba.
---
Sobel's source for the 1843 Grand Council elections is John Pritchard's He Was First! The Governor-Generalship of Winfield Scott (New York, 1960). Election results are from the New York Herald, 15 February 1843.